Our Sister Clinic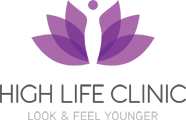 Our sister clinic, the Highlife Clinic provides Human Growth Hormone (HGH) injections. The benefits of HGH has been recognised for years and used around the world to treat both men and women.
During a comprehensive consultation where we would review your symptoms and pathology, we would also discuss the risks and benefits of the treatment, then we could consider starting you on an appropriate programme designed specifically for your needs.
We also offer human growth hormone injections and anti-aging treatments, for more information on any of these treatments please visit our website at www.highlifeclinic.co.uk .